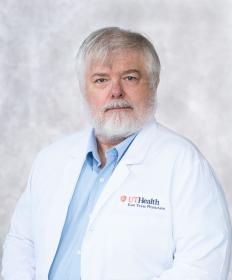 Physician Group:
UT Health East Texas Physicians
Michael McShan, MD, is a family medicine physician, who is a Fellow of the American Academy of Family Physicians and practices at UT Health East Texas Physicians Henderson. "I listen to people and what they say, trying to connect with them in some form or fashion. I present a treatment plan of what the patient should do."
In his four decades of practice, Dr. McShan has come to know many patients well. "I've taken care of parents, grandparents, children and grandchildren, which is very rewarding. It establishes rapport with patients because they have that much confidence in you that generation after generation come in to see you."
Dr. McShan earned his bachelor's degree in science from Baylor University in Waco and his doctor of medicine from The University of Texas Medical Branch in Galveston.
Board Certifications:
American Academy of Family Physicians, Fellow
American Board of Emergency Medicine, Board Certification
Education:
Residency: General Surgery, The University of Texas Medical Branch, Galveston
Internship: General Surgery, Parkland Hospital, Dallas
Doctor of Medicine: The University of Texas Medical Branch, Galveston
Bachelor of Science: Baylor University, Waco
American Medical Association Physician Recognition, Award
East Texas Treatment Center Physician of the Year, Award
Texas Academy of Family Physicians, Member
International Academy of Proctology, Associate Fellow
Texas Medical Association, Member
Texas Perinatal Society, Member
American Medical Writers Association, Member