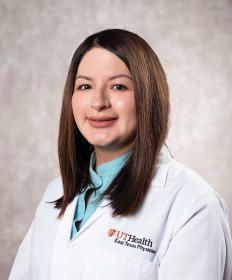 Practices At:
Hours:
Extended Hours Clinic:
Monday - Friday 8 a.m. - 6 p.m.
Yesenia Bazaldua, APRN, FNP-C, is a certified family nurse practitioner at UT Health East Texas Physicians in Henderson. She believes in taking a holistic approach when caring for her patients.
Providing primary care for patients of all ages is her focus. "I have a passion for nursing, and I enjoy promoting good health," she said. "I use my knowledge and skills to assess patients and help them manage their health, whether it is an acute illness or a chronic condition."
When not treating patients, she enjoys spending time with her family outdoors, taking vacations, exercising and reading. She is fluent in English and Spanish.
Board Certifications:
American Association of Nurse Practitioners, Certification
Education:
Master of Science in Nursing - The University of Texas at Arlington
Bachelor of Science in Nursing - The University of Texas as Arlington
Associate Degree in Nursing - Panola College, Carthage
American Association of Nurse Practitioners, Member