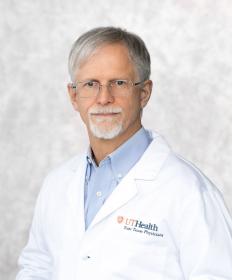 4.0 out of 5
Physician Group:
UT Health East Texas Physicians
Practices At:
Hours:
Extended Hours Clinic:
Monday - Friday 8 a.m. - 6 p.m.
As a board-certified family medicine physician, Gordon Uretsky, MD, knows the importance of caring for his patients. With more than 30 years of experience, Dr. Uretsky is a dedicated father of three who encourages East Texas families to be active and healthy. "The main thing you can do as a doctor is to empower your patients."
Dr. Urestky provides a wide range of healthcare services in Henderson, from childhood immunizations to managing chronic illness in adults. Dr. Urestky also conducts Department of Transportation (DOT) Physical Exams. He focuses on getting to know his patients and forming long-lasting personal relationships. "I enjoy teaching people what they need to do to take care of themselves and their children. The more we can help people do a good job of that, the better we feel.
Dr. Uretsky earned his bachelor's degree from the University of Texas at Austin and his doctor of medicine from the University of Texas Medical School at Houston.

Board Certifications:
Texas Board of Insurance, Certified Workers' Compensation Physician
American Board of Family Medicine, Board Certification
Education:
Family Physician Resident: Shawnee Family Practice, Oklahoma City and Shawnee, Oklahoma
Doctor of Medicine: The University of Texas Medical School at Houston
Bachelor of Engineering Science: The University of Texas at Austin
American Academy of Family Medicine, Fellow