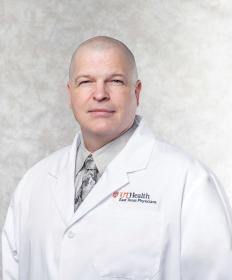 Physician Group:
UT Health East Texas Physicians
Practices At:
Hours:
Extended Hours Clinic:
Monday - Friday 8 a.m. - 6 p.m.
Hours:
Monday - Friday
8 a.m. - 5 p.m.
Ladd Hoffman, MD, MBA, is a general surgeon at UT Health East Texas Physicians in Henderson and Carthage. Dr. Hoffman specialized in surgery because he believes a hands-on approach is the best way to help people. He performs general surgeries, endoscopies, skin surgeries and more.
Dr. Hoffman was drawn to healthcare as a way to help people with their problems. "When I was young, I could fix anything hydraulic, electrical or mechanical. When my brother was diagnosed with juvenile diabetes, I could not fix it; but it motivated me to always try to find a way to help."
When not seeing patients, Dr. Hoffman enjoys spending time with his family, his church, traveling and continuing his education. He is also fluent in Spanish.

Education:
Residency: General Surgery, The University of Texas Health Science Center at San Antonio
Doctor of Medicine: Louisiana State University Health Science Center, Shreveport
Master of Healthcare Administration, Ohio University, Athens
Master of Business Administration, Louisiana State University, Shreveport
Bachelor of Science: Math-Education, Louisiana State University, Shreveport
American Medical Association, Member
American College of Surgeons, Member
Texas Medical Association, Member