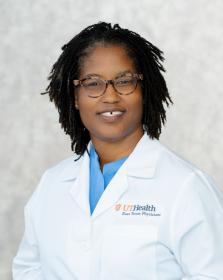 4.7 out of 5
Physician Group:
UT Health East Texas Physicians
Practices At:
Hours:
Extended Hours Clinic:
Monday - Friday 8 a.m. - 6 p.m.
LaJuan Chambers, MD is a board-certified pediatrician who practices at UT Health East Texas Physicians in Henderson. Her practice is based on simple principles: "Every child gets my full attention, care, and concern."
Dr. Chambers is a firm believer in developing healthy behaviors in children and their families. Her medical training also has given her an advantage when assessing children for attention deficit disorders, hyperactivity disorders and obesity. She speaks Spanish, which often helps her relate to patients and families. " I am interested in making sure kids are healthy and they they stay healthy and productive throughtout their adult lives."
Blogs Written by Dr. Chambers

Board Certifications:
American Board of Pediatrics, Board Certification
PALS and BLS, Certification
Education:
Post-Doctoral Research: University of Texas Medical Branch, Galveston
Pediatric Hamtology/Oncology Fellowship: University of Texas Southwestern Medical School, Dallas
Pediatric Residency: University of Texas Medical Branch, Galveston
Pediatric Internship: University of Texas Medical Branch, Galveston
Doctor of Medicine: University of Texas Medical Branch, Galveston
Bachelor of Science: Biology, Prairie View A&M University, Prairie View
University of Missouri Health Care, Outpatient Attending Physician of the Year